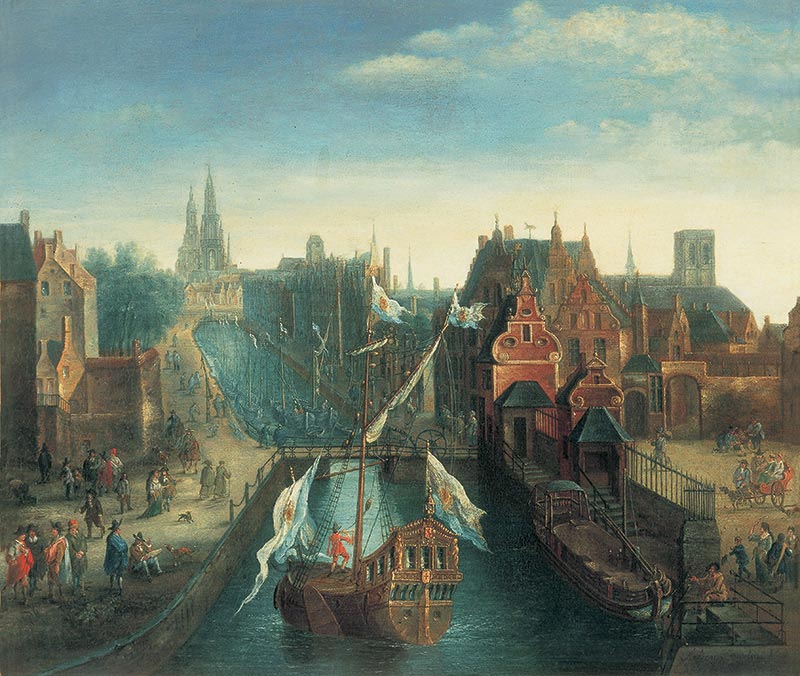 Oil painting. Andreas Martin. Circa mid-18th century.
Andreas Martin (1699-1763) is a Brussels artist who won fame during his lifetime for his imaginary landscapes and his depictions of the city and the surrounding area. In the foreground of this painting appears an impressive vessel, adorned with flags fluttering in the wind as it arrives in the port of Brussels. The city is recognisable from the tower of its Town Hall that can be seen in the background.
Port of Brussels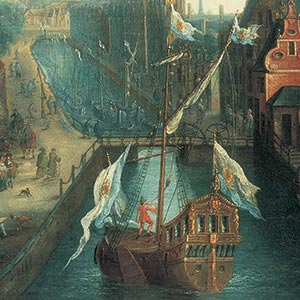 The rudimentary port located on the banks of the River Senne gradually fell into disuse after work started on digging the Willebroeck canal and its inauguration in 1561. Enabling heavier vessels to reach the city of Antwerp within a shorter time, this waterway went right into the centre of Brussels. Several basins were built to cater for the needs of increasing business activity, two of which are depicted here.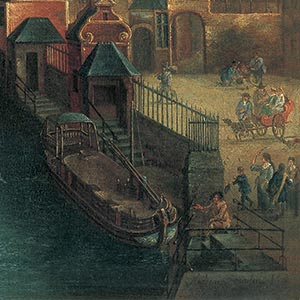 The dock in the foreground is occupied by a moored boat awaiting its passengers prior to setting off for Vilvorde or Antwerp.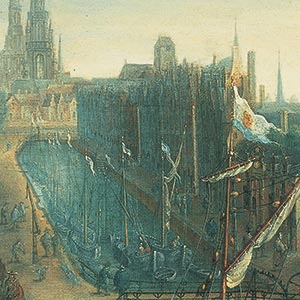 In the next dock, which is separated by a swing bridge, several vessels can be seen tied up at the loading docks, where a motley throng is going about its business.
An environment now gone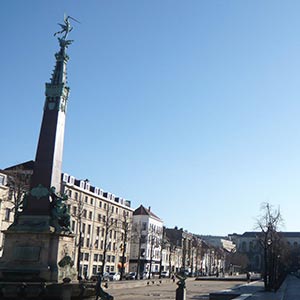 The port was relocated once more, in the early 20th century, to a more modern facility to the north-west of the city. The inner docks were filled in to make way for wide open spaces. The painting preserves the memory of the former port area, which is now known as the Saint-Catherine district. It also shows several buildings which no longer exist, such as the St. Géry church, on the far right and the tower of St. Nicholas church to the left of the Town Hall.
Next step
Now move on to the next room which presents views of some iconic monuments. In the centre you will find a painting depicting the Grand Place, which is easily recognisable from its Town Hall.