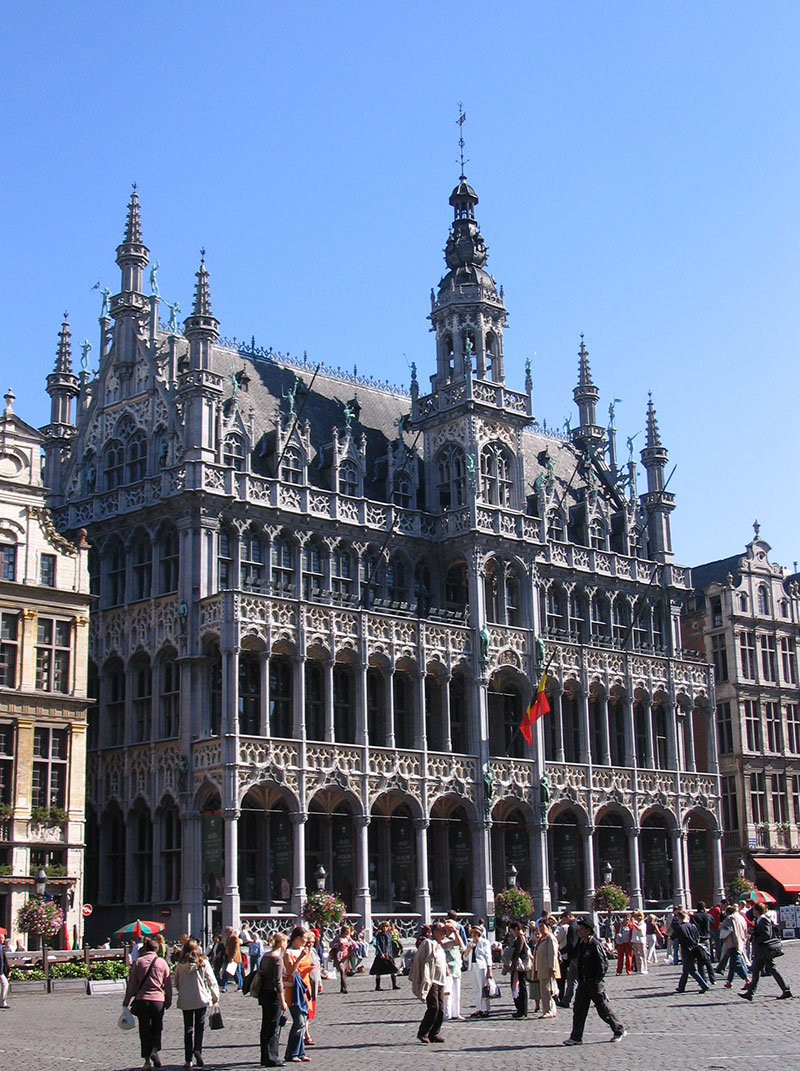 Architect Pierre-Victor Jamaer, 1875 - 1895
Harking back to the past
Everything about this room takes us right back to the Middle Ages: the column with the carved capital giving way to a flowering of pointed arches, windows made up of grids of little plain or coloured panes, the timber door with its bevelled parchment design...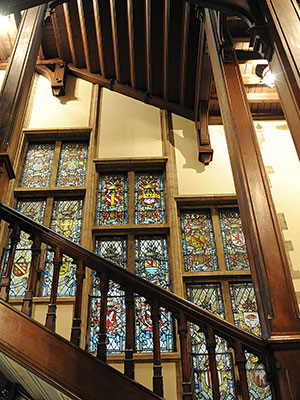 You will encounter this medieval ambience throughout your tour of the museum, particularly in the grand oak staircase illuminated by windows depicting coats of arms, and in the huge room on the second floor with its imposing timber frame, resembling the upturned hull of a ship.
A Gothic Revival masterpiece
In reality, the building only dates back to the last quarter of the 19th century;  it was designed in the Gothic Revival style, which borrows from and reinterprets the decorative elements of the Middle Ages. It was built in the wake of the demolition of the building that had occupied the same site on the Grand Place since the 16th century, and which, it had been discovered, could not feasibly be restored due to the very poor state of its foundations.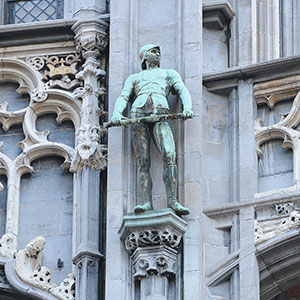 Although the new building borrows heavily from the old one, it has a more flamboyant appearance and its exterior has numerous additional features, such as galleries, a multitude of historical statues and even a bell-topped central tower.
The King's House
The new building retained the French name "Maison du Roi" that had been given to its predecessor, which was erected between 1515 and 1536. The original King's House had in fact been built as an administrative complex at the request of Charles V, the Holy Roman Emperor who not only governed the Duchy of Brabant, of which Brussels was the capital city, but also a very extensive collection of territories including the Spanish kingdoms of Aragon and Castile.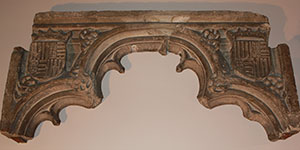 If you look up at the top of the walls in this room, you will see five carved decorative features in white stone. Taken from the right facade of the old building, these are all that remains of the 16th century King's House.  The carved coats of arms that can be seen along the edges, which were originally painted, depict several of Charles V's possessions. They helped assert his status in the very heart of Brussels, the city that was one of his favourite places of residence.
The Bread Hall
The former King's House was itself a replacement for a hall built in the 13th century to serve as a covered market for the bakers of Brussels. Interestingly, the present-day building is still known in Dutch as the "Broodhuis" (meaning Bread House).
Next step
The next commented work is in this same room, among the medieval sculptures on display.