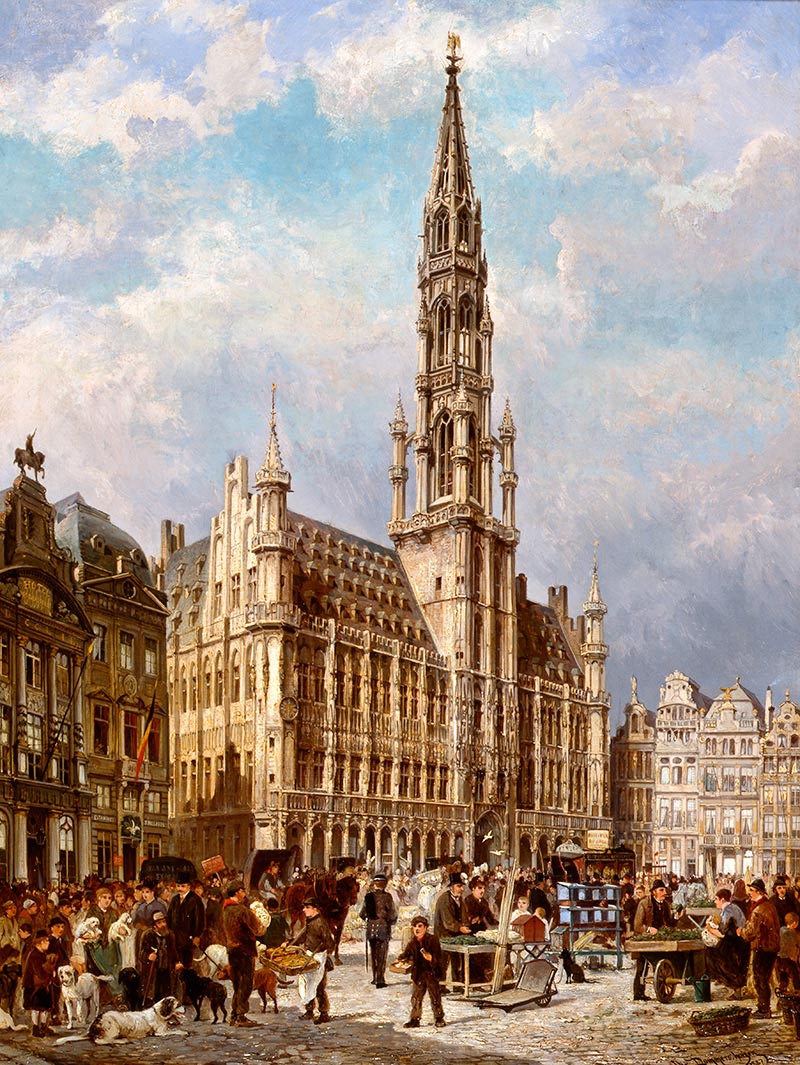 Oil painting. Cornelis Christiaen Dommershuizen. 1887
Specialising in picturesque landscapes, seascapes and urban views, the Dutch painter Dommershuizen included Brussels on his list of places to visit. This painting depicts the hustle and bustle at the foot of the Town Hall steps during the Sunday market.
Market area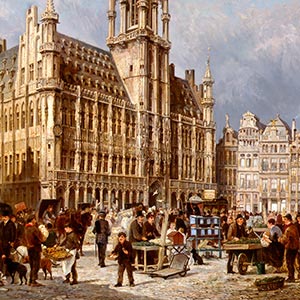 Ever since its creation during the Middle Ages, the Grand-Place (the main market square in Brussels) has continued to be a commercial hub. Towards the end of the 19th century it was the site during the week of a morning market used by wholesalers to sell fruit and vegetables as well as flowers.. Animals and market garden produce were sold there on Sundays.
Dogs, birds and vegetables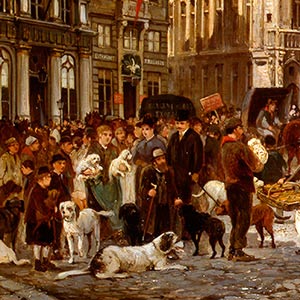 The left-hand side of the picture portrays several dogs awaiting  new owners, ready to become household pets or used to pull carts.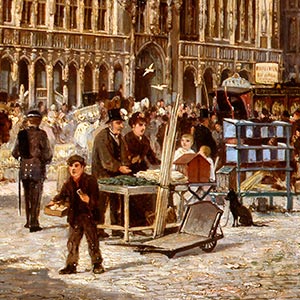 The centre of the composition shows cages containing birds sold for the beauty of their plumage or fine singing voices, while carrier pigeons are being sought by pigeon fanciers for racing competitions.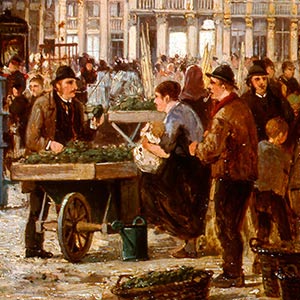 Lastly, vegetables grown in the surrounding districts of Brussels are displayed on small wheeled trestles or in baskets.
An activity now vanished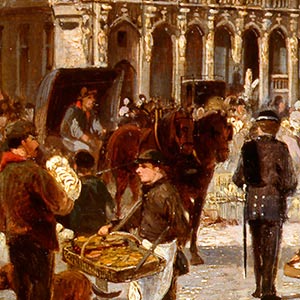 Street vendors can be seen selling their wares among the teeming crowd. The carts and horse-drawn trams only add to the busy to-and-fro atmosphere of the marketplace.
Market activities on the Grand-Place came to a halt in the second half of the 20th century.
Restored houses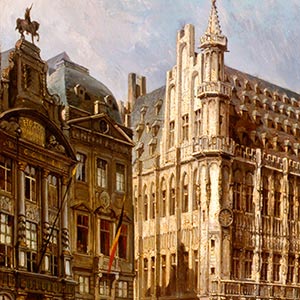 The view here is not a far cry from the one we can see today. The houses on the Grand-Place were being renovated as part of a restoration process that began during the 1840s and was completed in the early 20th century. The aim was to restore and recreate the way they looked after reconstruction following the city bombardment  in 1695. The Maison de l'Etoile (House of the Star) to the left of the city hall is clearly missing from the painting. This is because it was not re-built until ten years later, when it was provided with an originally non-existent arcade allowing people continued easy access to the square.
Next step
Take the staircase to go up to the 2nd floor. When you get to the top, take the small corridor on your right which leads to the room dedicated to Manneken-Pis.